Additional Devotionals
Have you wanted to openly live your faith around neighbors, friends, family members or coworkers but weren't sure where to start? What if you could do so naturally and compellingly in a way that didn't shut others down or turn them off?
You can! God's Word clearly tells us how.
Living on Purpose – Foundations unpacks what the Bible says about living out your faith in a natural and powerful way. Stories of how others have lived out their faith brings Biblical principles to life. 
Our newest devotional, Joseph, offers a great example.  Joseph, the favored son of Abraham, found himself sold into slavery by his jealous brothers. We all experience highs and lows in life, but few of us to the extremes Joseph experienced! Yet God was with Joseph every moment - protecting, providing for, changing, equipping and using Joseph for His great purposes.
Each devotional highlights who the Lord would have us be, how we participate in His transforming us, and the natural impact that flows from this. The devotionals are marvelous resources for individual study, small groups and Christian ERGs looking for faith-life integration content.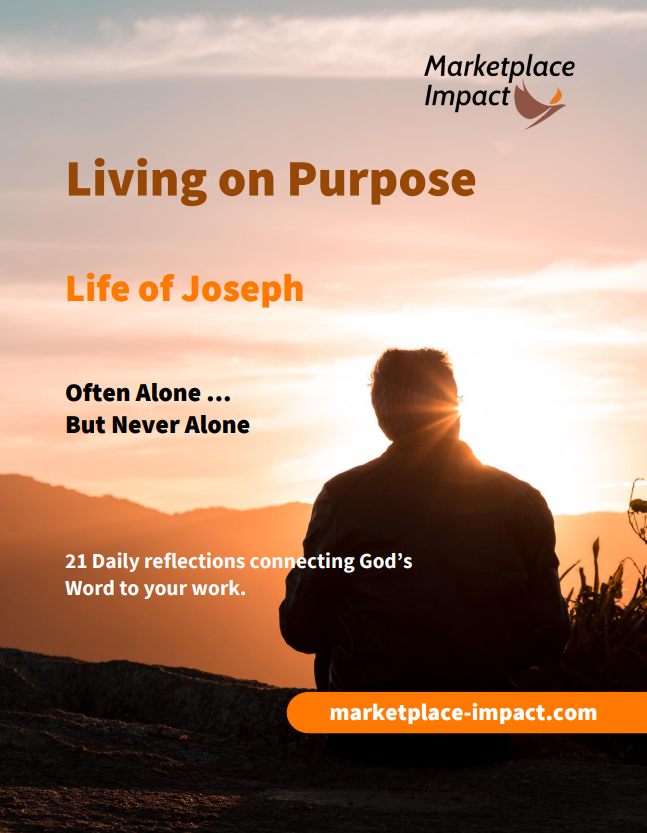 Life of Joseph
Life of Joseph - Alone but Never Alone is the first of several companion devotionals released in the Living on Purpose series. A 21-day devotional, Life of Joseph highlights God's intimate presence and power in and through the extreme highs and lows Joseph experiences. It reveals how God uses it all in readying Joseph to save the world from famine - including his long lost family! Joseph's story invites you to reflect on God's presence in your own life along with the ways He might use you right where He's placed you.
Life of Joseph may be experienced as a stand-alone devotional or as a small group study.  Either way, it is great preparation for Marketplace Impact's Living on Purpose - Foundations and/or
Immersive Cohort journeys.
Purchase Now
A Growing Set of Devotionals
We continue to develop additional devotionals to complete the Living on Purpose Series. We hope you enjoy them as much as we enjoy putting them together. The following lists the devotionals that we have drafted and are currently in the editing process. Continue to check as we will be releasing them over the coming months:
Esther
Daniel
Philippians
James
1 John
2 Corinthians
2 Timothy
Life of Paul
Questions and Next Steps
If you have questions or would like to know more about the Living on Purpose series, please contact us.
Contact Us